by Nightlust on Mar.17, 2011, under Development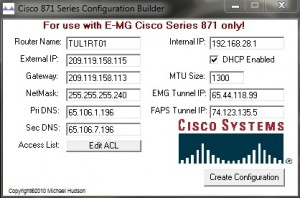 I cant even count how many Cisco devices I have had to configure in my day. And after a while it gets pretty redundant.
You know me, I love automation. With this app you can generate Cisco configurations based off a configuration of another Cisco devices allowing you to change only the required areas for your large network. Letting you create one script that can then be deployed to any WAN/LAN configuration. This version is for Cisco 87x series. I will soon open up the configuration import tool, instead of relying on a flat file.
This still has some very minor bugs to work out but should be available soon.