by Nightlust on Mar.17, 2011, under Development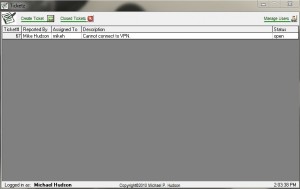 Here is another one of my work in progress applications. Since we have issues with our help desk following up with requests I have been developing this application to help remind IT reps of current issues and tasks.
There is also a web end of this application for the user, which is a simple form that asks for Name, Number and issue. At this point all Ticketz running will alarm that a new ticket is available until it is taken. It runs like every ticketing software out there with the exception it will constantly remind you if issues are open, to the point you want to actually close them.