by Nightlust on Mar.17, 2011, under Development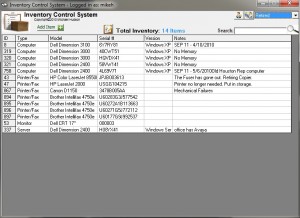 Working in the IT industry for as long as I have, I never seem to find the perfect inventory system. So as a frustrated IT admin I took it upon myself to write exactly what I felt I need.
This inventory system supports multiple users, multiple sites, inventory check lists, super fast searching, any term/keyword search, notes, item tracking etc.
It is pretty close to being complete and I will soon be offering a trial version of the software. I will be sure to update this post the minute the trial is available.